Lactibiane

Défenses
Zinc and vitamin C contribute to the normal functioning of the immune system.
Lactibiane Défenses is a blend of microbiotic strains, andrographis (an herb of Asian origin), as well as zinc and vitamin C, which contribute to the normal functioning of the immune system.
- Lactobacillus acidophilus LA 201
- Lactobacillus helveticus LA 102
- Bifidobacterium longum LA 101
Microbiotic strains in Lactibiane Défenses selectively bred by PiLeJe are registered in the National Collection of Microorganism Cultures (CNCM).
Whom to contact for advice?
E-mail: international@pileje.com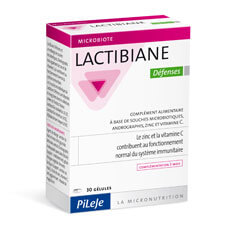 1 capsule daily for 10 days in a month. Swallow capsules before meals.
Not suitable for pregnant or breastfeeding women and children under 12 years of age.
Repeat the course after several months.
Storage: keep in a cool dry place.
Do not exceed the recommended daily dose. Keep out of reach of children. This food supplement is not a substitute for diverse balanced nutrition and a healthy lifestyle.
Use-by date and batch number are indicated on the bottom of the carton.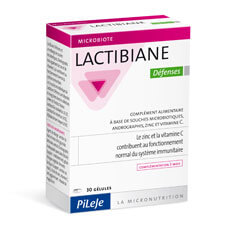 Buking agent: corn starch and glyceryl mono-, di- and tribehenate, Andrographis paniculata andrographis extract (leaves) (carrier: maltodextrin, capsule of plant origin, lactic ferments (carrier: corn starch), zinc citrate, vitamin C, anticaking agents: magnesium stearate.
Nutritional analysis